My latest book: WWWordsmith: Forging a living from online writing is now available from Amazon!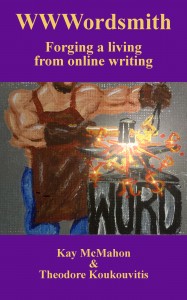 Working once again with epic friend and mentor Kay McMahon, we have put together a book explaining the the ins and outs of making money online from writing.
I am covering all aspects of working online as a freelance writer with Kay focuses on the business aspects of writing online.
If you think you have writing skills, if you know you have a book in you, if you already make money from your writing but want to go online then this book may help you find your way to forge a living from online writing!
As with all our books, there are no upsells, no tricks, no get-rich-quick schemes and no promises to miraculously turn the reader into a capable writer. Instead, we just offer you accurate and objective info about what's what in the internet when it comes to writing.